Wells Festival of Literature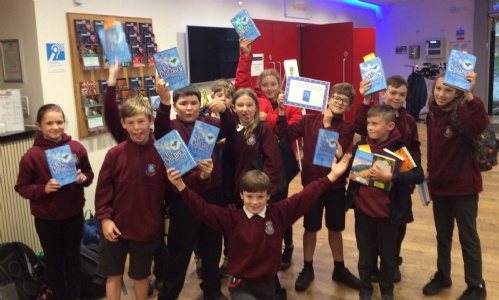 Year 6 met M.G Leonard at the Wells Festival of Literature on Thursday. Read on to find out more.
The class were time-pressured journalists yesterday afternoon, with a mission to write a review of the event at Cedar's Hall, ready for the publishing deadline of today. Here's the headline review:
I really loved our trip to Wells Literature Festival to see M.G Leonard, who told us about her new book and read from the first chapter. The whole trip was amazing and I think lots of people had fun. The author M.G Leonard was amazing and fun to watch her. She has made so many books and she encouraged me a lot. She had a very interesting story about when she was in year six about her not getting the best of grades, but she didn't give up and now she is now an author. It was very interesting and I bought one of her brand new books that just came out. She has many different books about bird watching , train adventures, books like The Secret 7 and many others. It was so much fun. I really enjoyed it. I think it was so inspiring. I have already started reading her brand new book 'The Ice Children'. I loved it and I hope something like that happens again. xxxx Eboni
Other top quotes:
"She said that she had great ideas but she wasn't good at writing them down. People asked questions and there was a raffle to win Macmillan books, which Wookey school won!" Ed
"It felt like we were in book heaven...I had to walk up onto to the stage and collect the certificate on my own ! I was trying to act cool but inside I was fizzing with excitement." Barnaby
Thank you to the Literature Festival for all of your support. We're so excited to receive our prize and add to the quality texts in our school library.
If you want to read more, we are also on the Literature Festival's instagram at https://shorturl.at/hlsB8